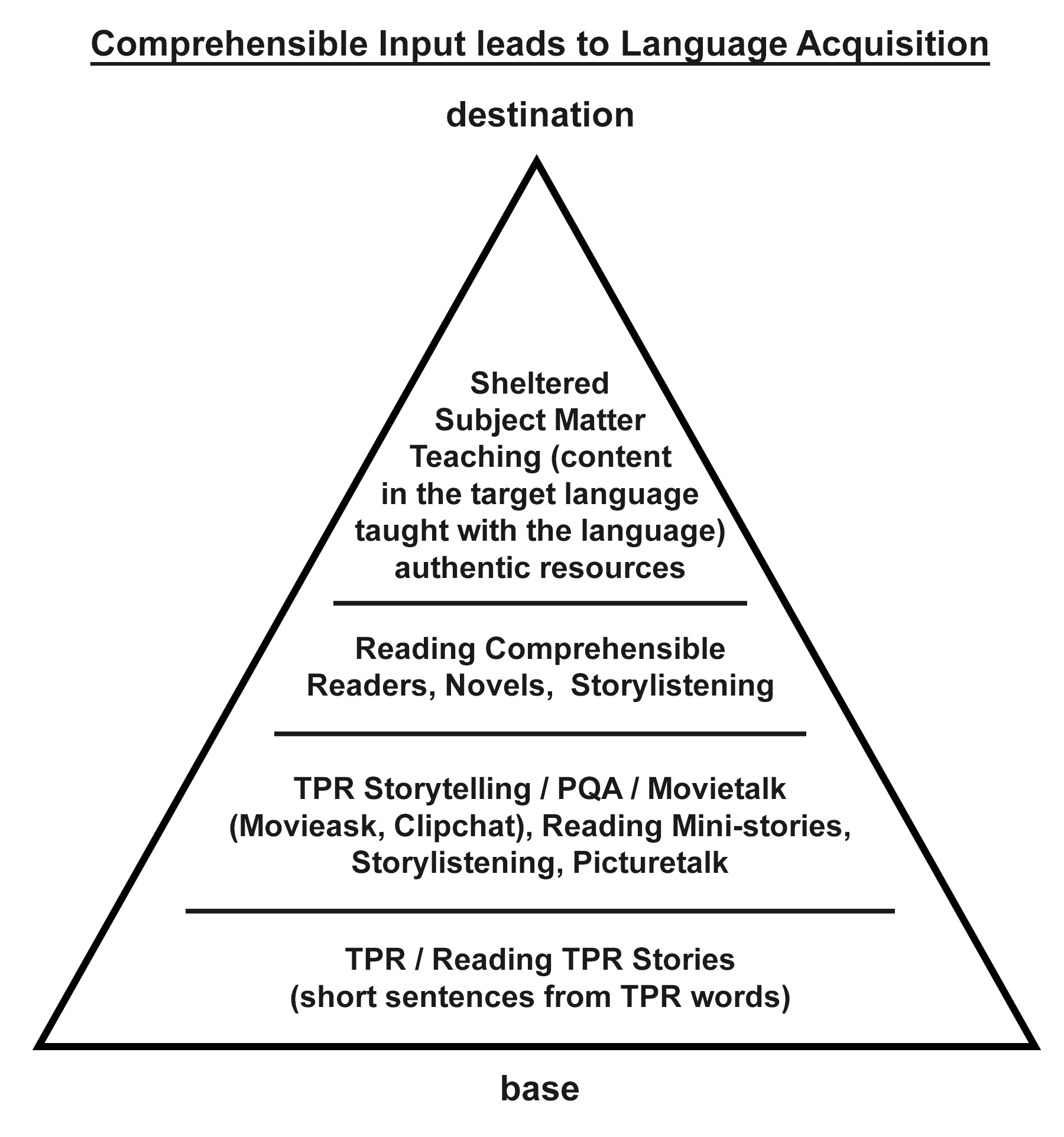 •The first goal is a CI RE-BOOT, re-grounding teachers who have been drowning in technology and lost their connection to the roots of comprehension-based teaching.
•The second goal is to change the conversation around the CONTENT of that Comprehensible Input.  Any CONTENT can be taught using the same basics of comprehension-based teaching.  
 Goal two is to, while grounding ourselves in the Comprehension Hypothesis, change  the content we are teaching, which in some very fundamental ways also requires changing ourselves.  
It does not mean that our sheltered subject matter has to be taught in English instead of the TL. It doesn't mean that students should be producing output instead of receiving input. It doesn't mean that meaningful content should be broken down to analyze its grammatical components.
This is where we bridge both.
We start at the bottom and build to the top.
John Bracey at the CI Reboot 2021
What is the CI-Reboot like? Check out John Bracey, Latin teacher, at the CI-Reboot 2021: messages all teachers need to hear right now!
Testimonials from 2021 attendees
THIS conference will give you a chance to reboot, revisit and take some practical ideas and strategies back to the classroom and IT is RELEVANT!
This is the best conference I've ever been to. The speakers were masters in their fields, yet the format with the live chat made it feel like we were having a conversation.
It was a great refresher about CI, and a well organized event.
I highly recommend attending. It is a great opportunity to be informed about what is new in the area.
CI Reboot is fantastic for newbies as well as long-time CI users!
Short, sharp, easy to digest. Useful.
It was awesome! Laid back, fantastic presenters, you can watch at your own pace. It's incredible!
It was good-- choice of sessions, big names, reasonable timeframe/breaks.
Testimonials from 2021 attendees
I will recommend this conference to all my colleagues.
It was a great experience, well organized, great line up of topics/presenters, very worth the time and money.
Everyone should attend your conferences! Run, don't walk, run and join!
It was fantastic. Just what I needed.
It was great! It had a variety of presenters and topics. A lot was offered and there were inspiring conversations and strategies modeled.
Definitely a must-see, must-join.
Affordable and useful.
Definitely attend! Take it!
The sessions are very informative and the presenters are very well prepared.
I was a skeptic about attending an online conference, but the CI Reboot was totally worth my time! It is a conference filled with engaging and knowledgable presenters who enriched our minds and touched our hearts. Must attend!
Testimonials from 2021 attendees
Very creative and engaging workshop; diverse group of speakers.
It really was a reset. It was very valuable for re-centering me on what's most important in teaching.
Great basics and high quality presenters. I took so many pointers that will help me in the coming years.
Great review of important CI strategies after a crazy 2 years of teaching. I learned a lot!
Can't miss it! It helped me refresh my ideas and enthusiasm. It was excellent.
Very worth it! Had a wonderful variety of inspiring presenters.
It is an amazing conference--no matter your level of comfort with using CI strategies.
The presenters and the sessions were great. The sessions were recorded so I can view the ones I missed and review the ones I previously attended.
Schedule and Sessions June 27-July 1
Overview of the CI-Reboot 2021
Little intro for 2021 about what CI Reboot will be like.
Did you attend in 2021?
The 2021 recordings are still available on demand.
Check your inbox to confirm your subscription